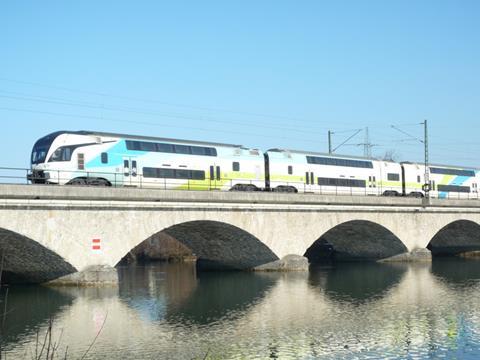 AUSTRIA: ÖBB-Technische Services and Stadler signed an agreement on March 2 to establish ÖBB Stadler Service GmbH as a 60:40 joint venture which will maintain Westbahn's fleet of Stadler Kiss double-deck electric multiple-units from mid-2017.
Stadler has maintained the Wien – Salzburg open access operator's fleet of seven EMUs in Linz for the past five years, and is supplying 10 more units.
The joint venture will be based in Wien and is expected to have 40 staff by the end of 2018. It would benefit from Stadler's experience with the current fleet, while increasing the amount of work undertaken for external customers at ÖBB's Wien West site. Several million euros are to be invested in upgrading the site to enable maintenance to be undertaken overnight to minimise the number of vehicles out of service during the day.
ÖBB and Westbahn compete in the long-distance passenger market, but the open access operator told Railway Gazette it did not believe there was a conflict of interest in having an ÖBB subsidiary maintaining its fleet. Westbahn pointed out that ÖBB-TS has maintained vehicles for competing operators in the freight sector for the past 15 years, and said 'we are very much in favour of competition and co-operation wherever it makes sense'.