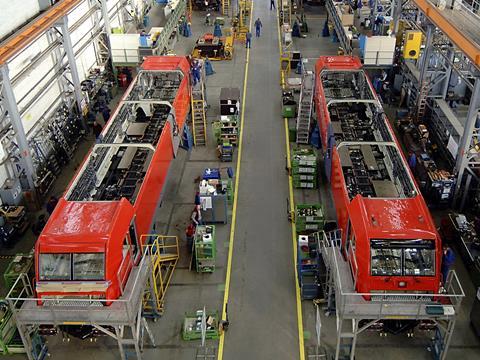 BOMBARDIER: On October 21 Bombardier Inc announced plans to cut approximately 7 500 jobs worldwide as part of a workforce optimisation and site specialisation programme running through to 2018. Around two-thirds of the job losses would be at the Bombardier Transportation rail business, with the rest in the aerospace business.
Further details of are to be released once the company has held talks with employee representatives over the coming weeks. There will be a 'streamlining' of administrative and non-production functions, with centres of excellence to be created for design, engineering and manufacturing.
Bombardier said the impact on overall employment would be partially offset by recruitment to support 'key growth programmes', including the C Series and Global 7000 aircraft and major rail contracts.
The company expects to achieve recurring savings of approximately US$300m by the end of 2018. It anticipates US$225m to US$275m in restructuring charges, which would be reported as special items starting in Q4 2016 and continuing through 2017.
The restructuring forms part of a five-year turnaround plan launched in 2015. 'After successfully de-risking our business last year, our focus has shifted to building a clear path to profitable earnings growth and cash generation', said Alain Bellemare, President & CEO of Bombardier Inc. 'The actions announced today will ensure we have the right cost structure, workforce and organisation to compete and win in the future. We are confident in our strategy, our leadership team and our ability to achieve both our 2016 goals and our 2020 turnaround plan objectives.'
The aim is to 'reduce costs, to leverage our scale and to become more efficient in all our operations' said Bellemare. 'While restructuring is always difficult, the actions announced today are necessary to ensure Bombardier's long-term competitiveness and position the company to continue to invest in its industry leading portfolio while also deleveraging its balance sheet.'