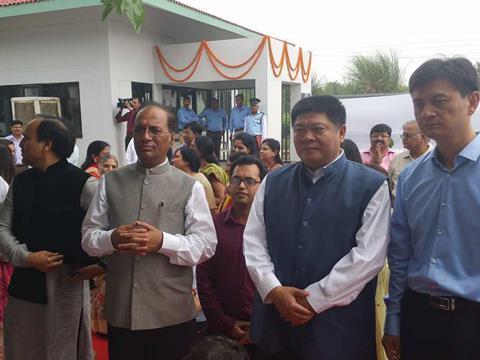 INDIA: Chinese rolling stock and components conglomerate CRRC Corp has opened its first joint venture manufacturing plant in India, the group announced on August 20.
Representing a total investment of US$63·4m, the CRRC Pioneer (India) Electric Co plant located in Haryana's Bavo Industrial District will manufacture electrical equipment such as traction motors, as well as assembling and repairing complete locomotives. CRRC Pioneer will also provide technical support for railway operations across the country, and hopes to supply electric transmissions for India's oil, wind power generation and mining sectors.
CRRC said it was the first foreign company to set up a rail vehicle assembly plant in India since Prime Minister Narendra Modi launched his 'Made in India' campaign in 2014. The Bavo facility is CRRC's first factory in South Asia, which the group sees as an expanding market. Vice-President Yu Weiping said the plant would 'advance co-operation in industrial capacity and local equipment manufacturing', creating jobs for local people and generating tax revenues to fund infrastructure improvements.
CRRC's predecessor companies have been active in the Indian railway market since 2007, supplying metro trains, locomotive traction motors and other rolling stock components. CNR Pioneer Electric was established in 2015 as a joint venture between CNR subsidiary Xinshisu Electric Equipment Co and Indian trading company Pioneer Filmed Pvt Ltd. It is based at Bawal, near Rewari in Haryana province, southwest of New Delhi. Following the merger of CNR and CSR last year, CRRC Corp now holds a 51% stake in CRRC Pioneer (India) Electric Co Ltd.
Yu said CRRC was looking to expand its presence in the Indian market. 'Given that there are more than 60 000 km of railways in India, it is far from enough to build a single plant', he said. 'CRRC will build more plants able to produce trains, traction systems and other key parts.'