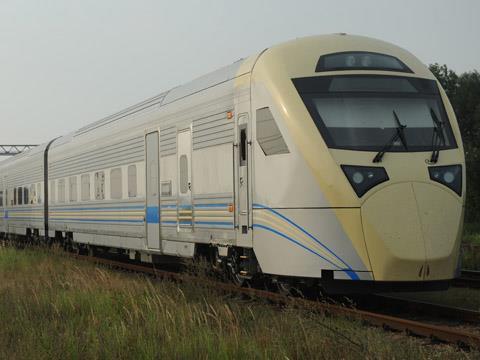 CAF: According to consolidated results published on February 28, Spanish rolling stock manufacturer CAF had an order backlog worth €5·03bn as of December 31 2011, up 11% on the year before. Of the current backlog, 73% was for customers outside Spain.
Production in 2011 totalled 1 096 cars, including 133 for Metro de Caracas in Venezuela and 96 commuter cars for CPTM of São Paulo, Brazil. Six diesel power cars and 25 coaches were also completed for Saudi Railways Organisation.
Domestic customers included Metro de Madrid for which CAF built a total of 98 cars in 2011. Production for RENFE comprised 45 Civia IV commuter EMU cars, 16 high speed gauge-changing vehicles and 12 DMU cars for medium-distance services.
Net turnover in 2011 was €1·72bn, up 10% on the year before, with export orders accounting for 75% of this total. EBITDA from continuing operations was €228·8m in 2011, up 13% on the year before.