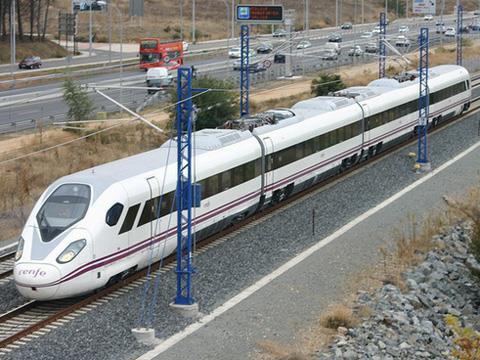 SPAIN: A four-car prototype of CAF's Oaris high speed train is undergoing trials on the Madrid - Sevilla route, where testing will include operation at up to 352 km/h. Numbered No 105 001 by RENFE, at the manufacturer's suggestion the prototype was delivered in place of the last of an order for Class 120 trainsets.
It arrived at the RENFE workshops at Villaseca de La Sagra in September, and following static trials made its first runs on the branch from the Madrid - Sevilla route to Toledo. The trainset is currently operating on 1 435 mm gauge bogies, although Oaris might also be equipped with CAF's Brava gauge-changing system.
Oaris has been designed for set lengths of four, six or eight cars, each vehicle riding on a motor and a trailer bogie. The maximum rating of an eight-car set would be 10 660 kW, with a passenger capacity in excess of 500 passengers depending on train format.