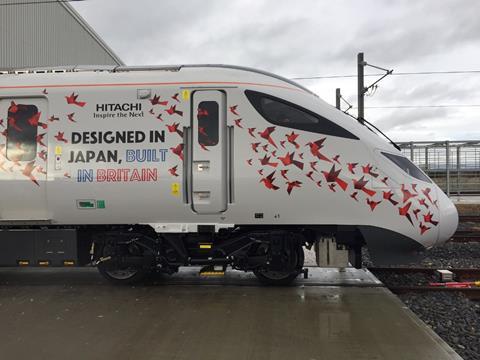 UK: The first electro-diesel trainset to be assembled at Hitachi Rail Europe's Newton Aycliffe plant in northeast England was officially unveiled on December 9, in a ceremony attended by Secretary of State for Transport Chris Grayling and Japanese Ambassador Koji Tsuruoka.
As part of the Agility Trains PPP consortium, Hitachi is supplying 122 trainsets under the Department for Transport's £5·7bn Intercity Express Programme. These will be deployed on the Great Western and East Coast main lines, with the consortium also responsible for servicing and maintenance.
The first pre-series trainsets were assembled at Hitachi's Kasado works in Japan while the Newton Aycliffe plant was being built. The £82m facility was formally completed in September 2015, and by April 2017 the company expects it to have around 900 employees. Opening of IEP maintenance facilities elsewhere in the UK will bring HRE's footprint to 2 000 employees at 14 sites by 2019.
HRE Managing Director Karen Boswell said the event was 'a celebration of the return of train manufacturing' to northeast England, 'supporting thousands of jobs and developing a strong engineering base in the region'.
As well as the IEP sets, Hitachi is supplying 36 AT300 electro-diesel trainsets to Great Western Railway, 19 to TransPennine Express and five to Hull Trains. It is also building 70 three- and four-car Class 385 electric multiple-units for ScotRail, the first of which is currently on test.