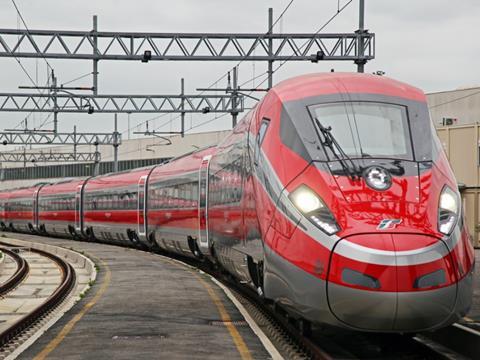 ITALY: Hitachi Rail Italy has been awarded two contracts worth a total of €100m, covering the provision of maintenance services for Frecciarossa high speed trainsets operated by Trenitalia.
Worth €79m, the first contract covers the provision of spare parts and labour to maintain the Frecciarossa 1000 fleet over a period of nine years in addition to warranty. The full fleet of 50 Frecciarossa 1000 trainsets is due to be in operation from spring 2017, according to HRI.
Trenitalia has also awarded a joint venture of HRI and rolling stock maintenance contractor SITAV a second extension to its contract to provide preventive and corrective maintenance for the Frecciarossa 500 fleet. The 12-month contract is worth €21m.
HRI CEO Maurizio Manfellotto said that the contract awards were further confirmation of the company's capacity not only to supply products 'advanced in technology and design', but also to assist customers 'step by step' in meeting their requirements to ensure better performance for passengers. 'This is a further demonstration of our competitiveness in a sector and strategic business like service and maintenance', he added.