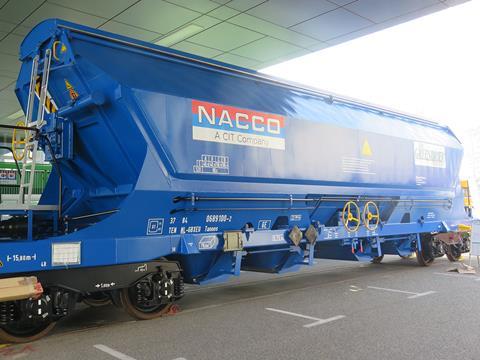 On April 3 the Austrian antitrust court approved VTG's acquisition of Nacco Group, subject to conditions. German approval had been granted the previous week, and so the transaction has now been approved by all relevant parties. The transaction is expected to close during the second half of 2018.
With effect from March 28 ZAO Transmashholding has formally changed its name to AO Transmashholding, in accordance with Russian legislation. The name in English, taxpayer identification number and main state registration number have not been changed.
Solo Rail has expanded its UK facilities at Long Acre in Birmingham, with new buildings to house an integrated bonding and paint-finishing environment as well as a logistics hub.
Bouygues Construction is to acquire the engineering and industrial activities of Alpiq Group's Alpiq Engineering Services business for SFr700m, while Bouygues' Colas Rail business will acquire Alpiq Engineering Services' rail activities for SFr150m. 'This acquisition will enable Colas Rail to develop in the Swiss and Italian markets in particular, and to strengthen its presence in Central Europe and the UK', said Hervé Le Bouc, Chairman & Chief Executive of Colas, on March 26. 'Alpiq's recognised expertise in railway power supplies will supplement Colas Rail's portfolio of solutions and know-how, and will strengthen its leadership in the rail sector.'
Russian tram manufacturer PK Transportnye Systemy is to relocate its activities from part of Transmashholding's Tver site to St Petersburg, having agreed to pay 1·18bn roubles to rent two production halls at the Oktyabrsky Electric Railway Car Repair Plant until the end of the year. OEVRZ had invested in the construction of TramsRus light rail vehicle production facilities, but was unable to utilise the available capacity after plans to work with Alstom collapsed.
Amaronia Ltd is to distribute Era-contact's rolling stock inter-vehicle and monitoring system connectors in Finland, Sweden, Norway, Denmark, Argentina, Brazil, Chile, Mexico, Peru, South Africa, Israel and Australia. 'With our series of UIC connectors 552, 558, 541 and UIC IT we have successfully established ourselves on the market', said Christoph Schill, Director of Sales at Era-contact. 'Now we want to expand our network'.