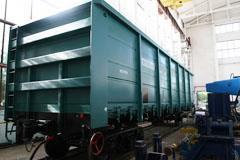 SLOVAKIA: Rolling stock and component supplier Tatravagonka has signed a strategic partnership to develop and supply Barber S-2-R radial bogies for freight wagons being manufactured at the new Tikhvin rolling stock plant east of St Petersburg. The formal agreement was signed in Dobra on January 24 during a visit to Slovakia by RZD President Vladimir Yakunin.
RZD currently holds the patents on the 1 520 mm gauge B-2-R bogie, which was developed by the Standard Car Truck subsidiary of Wabtec Corp. Tatravagonka will be licensed to develop and supply two versions of this bogie for use under wagons and vans being built at Tikhvin for RZD, Freight One and TransContainer. These will be the Type 18-9810 for 23.5 tonne axleloads and the Type 18-9855 for 25 tonnes.
The TVSZ rolling stock plant at Tikhvin is due to come on stream in the first months of 2011, supplying four main types of wagon to 1 520 mm gauge railways: an 80 ft container flat, a solid-bottom gondola, fertiliser hopper and a universal drop-bottom gondola, jointly designed by the Russian Engineering Centre for Railcar Builders and Starfire Engineering & Technologies of the USA. The plant is expected to have an annual capacity of 13 000 wagons, 65 000 wheelsets and 90 000 tonnes of steel castings.