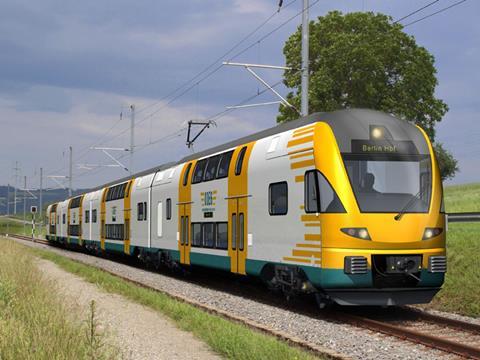 GERMANY: Citing healthy orderbooks for its German division, Stadler announced on January 26 that it was planning to expand the capacity of its local business unit Stadler Pankow, with a total investment of around €10m in the construction of additional production capacity and a new assembly facility.
Stadler Pankow Director Michael Daum said the project was 'a clear commitment to the region', which also reflected the company's plans for the future. A final assembly facility is being created at Hohenschönhausen in Berlin, which will increase Stadler Pankow's current capacity by approximately 50%. Production at the site is expected to start in July.
Meanwhile, a new subsidiary, Stadler Reinickendorf GmbH, is being established to manufacture bodyshells for the KISS double-deck EMUs. The first vehicles to be built at Reinickendorf will be the 16 four-car sets which Stadler is supplying to Ostdeutsche Eisenbahn for the Berlin-Brandenburg regional network. These are due for delivery in 2012, and will be followed by a batch of eight three-car dual-system sets for Luxembourg Railways.
Development, design and administration will continue to be undertaken at Pankow. Together with the existing Velten site in the Oberhavel district of Brandenburg, Stadler Pankow will have four plants in the region. The expansion is expected to create around 300 more jobs, and Daum says the company expects to be employing 'considerably more than 1 000 people' in Berlin-Brandenburg by 2013.
With three plants in Switzerland, four in Germany, three in Hungary and one each in Poland, the Czech Republic, Italy and Algeria, Stadler Rail Group now has a total workforce of over 3 500 people.