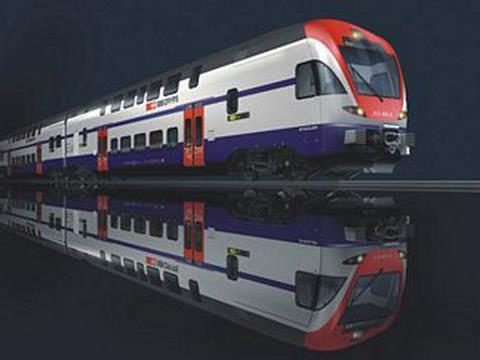 SWITZERLAND: Stadler Rail officially opened its train commissioning centre in Erlen on October 22. The Inbetriebsetzungs-Zentrum will enable Stadler to test and commission trainsets up to 150 m long, too long for the tracks at its Bussnang and Altenrhein assembly plants.
Construction of the centre on a site alongside Swiss Federal Railways' Zürich - Romanshorn line was launched in October last year. It has seven test tracks, two electrified. The main hall is 162 m long and 42 m wide, and is designed to be extended to 230 m with additional tracks.
Stadler has invested SFr30m in the facility, which will employ around 60 staff. It will be used to commission the 50 KISS double-deck EMUs being built for Zürich S-Bahn services and 50 FLIRT units for Norway's NSB.
'The Stadler IBS Centre enables a very sensible change of use for the former tank farm site, which has been wasteland for more than 10 years now, and what is more, creates additional skilled jobs', said Mayor of Erlen Roman Brülisauer at the opening ceremony.