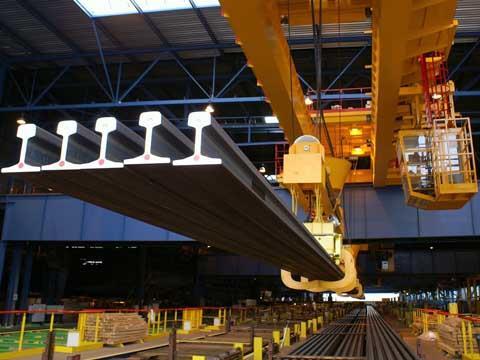 FRANCE: Tata Steel held an event on September 29 to mark the completion of a €35m project upgrade the rail mill at its Hayange plant.
Described by the steel maker as the most significant investment in the site for more than a decade, the 18-month project was undertaken to boost annual capacity from 300 000 to 340 000 tonnes, improve yield and quality and increase the maximum length of rail which can be produced from 80 m to 108 m.
The investment 'demonstrates Tata Steel's commitment to being the European leader in the rail sector', according to Chief Commercial Officer Henrik Adam. 'Our two state-of-the-art rail production facilities in the UK and France now have world-class manufacturing capability and we will continue to support our customers by offering innovative products and services in growth markets.'
Tata Steel's plant at Scunthorpe in the UK is to supply steel for Hayange to roll into 84 000 tonnes of 108 m rail for the 302 km Tours - Bordeaux high speed line. Switches and crossings will take the total value of the contract awarded by COSEA to €80m.