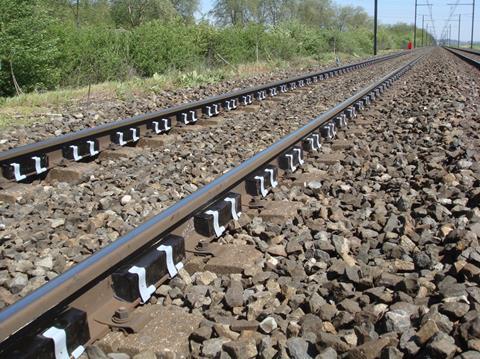 UK: SilentTrack noise dampers are to be installed at London Blackfriars station under the Thameslink Programme to mitigate the acoustic effects of running up to 24 trains/h along the core north-south cross-city route from 2018.
Already installed by DB Netz on its main lines through the Rhein valley and on sections of the CityRail suburban network in Sydney, SilentTrack has been developed by Tata Steel Europe (formerly Corus) to target isolated areas of high rail noise. The manufacturer claims a potential reduction in peak track noise levels of 3 dB(A) to 7 dB(A).
SilentTrack uses patented Tuned Rail Dampers comprising up to three resonant steel blocks embedded in elastomer with high damping quality. The dampers are fixed either side of the rail with spring clips, and they can be used with a wide range of rail profiles and fastening types. The dampers are also compatible with monobloc or twin-block concrete sleepers, steel and wooden sleepers, or ballastless trackforms.
'We are able analyse the track characteristics to ensure the damper is configured to absorb vibration at the frequencies that are producing the greatest sound power', explained David Benton, SilentTrack Product Manager at Tata Steel Europe.