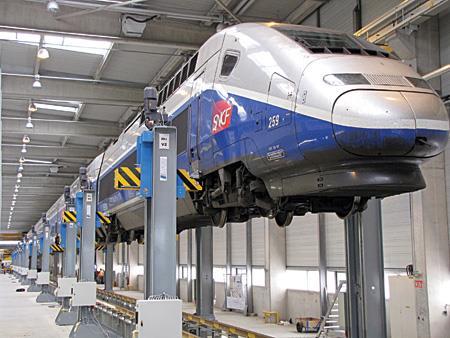 FRANCE: SNCF's Technicentre de Lyon-Gerland high speed train maintenance depot features custom-made lifting jacks able to lift a complete 200 m long TGV trainset by 4·4 m.
Pfaff-silberblau has supplied 26 jacks, plus two spares. Each one is 6 m high, with a jacking height of between 1000 and 4400 mm and capacity of 20 tonnes. Jacking speed varies between 390 and 780 mm/min, offering rapid lifting to save time, with precise lowering into position.
The synchronised controls provide automatic correction to keep deviation below 3 mm. The motorised load arms can be adjusted ±50 mm sideways at any height and when loaded, enabling the millimetre-accurate fitting of bogies.
There is a control panel with a real-time graphic display, and three cameras for video monitoring. Lights and audible alarms warn staff when lifting is in progress, and each jack has an intercom for staff to communicate with each other.