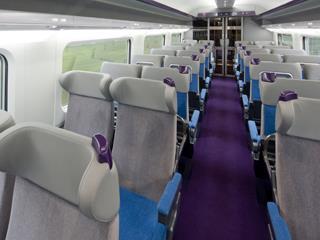 FRANCE: The first of 60 refurbished TGV PSE trainsets is expected to re-enter service on LGV Rhin-Rhône during March, following overhaul at the Hellemmes Technicentre near Lille.
The refurbishment has been styled by a partnership of seating specialist Compin and creative agency RCP Design Global. Adopting 'a cognitive and sensory approach', the designers put particular focus on lighting, which has been updated to 'enlarge and structure' the saloon. The main lighting is described as 'softer and more functional', with 'task lighting' used to pinpoint certain facets of the interior 'closer to the hand and the eye'.
RCP enlisted the help of visual designer Christel Berthou-Brosse to implement a signage policy through material and colour choice to 'ensure the traveller knows where he is at any time during the journey'.
Other renovated spaces included the toilets, which have been remodelled with materials chosen to provide 'a domestic dimension', which contributes to 'a perception of cleanliness'.
The bar area has also been extensively revised, with an open plan layout minimising separation between the passenger and service staff. The designers hope that passengers will be encouraged to use the space even when no bar service is being provided.
The refurbishment is intended 'to perpetuate the desire to travel by TGV', according to RCP. Trainset SE15 underwent testing in mid-February before re-entering traffic. The TGV PSE sets are now more than 30 years old.