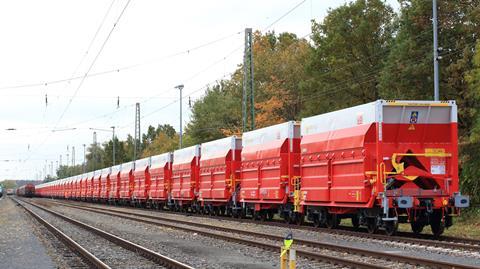 CROATIA: Innofreight, Tatravagónka and Slovak rail logistics group Budamar Logistics have signed a framework agreement covering wagon production for 10 years which is potentially worth €2bn.
Under the agreement, Tatravagónka subsidiary TŽV Gredelj will produce 1 000 Innowaggons per year for Innofreight at its plant in Zagreb, which will be marketed to customers across Europe. According to Innofreight, the partnership effectively enables it to insource wagon manufacturing and reduce its exposure to external suppliers..
The signing ceremony was attended by the Croatian Prime Minister, Andrej Plenković, and the agreement was co-signed by Lubomír Loj, Sales Director of Budamar Logistics, and Tatravagónka co-owner Ivan Petriček.
Petriček said that TŽV Gredelj would increase its workforce from 400 to 1 000 employees to handle the extra workload, and will invest €70m in modernising its plants and buying automated production tools. The difficulty in finding skilled labour locally means that TŽV Gredelj may have to import workers from other countries.
Innofreight is based in Bruck an der Mur in Austria, develops, leases and operates bespoke freight wagons, containers and unloading systems. TŽV Gredelj is a formerly government-owned rolling stock manufacturer based in Zagreb. After a decade of decline which led to insolvency, it was acquired by Tatravagónka in 2021.