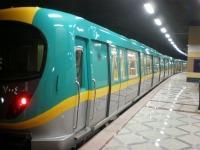 EGYPT: The National Authority for Tunnels has signed contracts for fit-out and signalling for the 5·7 km Phase 4A eastern extension of Cairo metro Line 3 to Cairo International Airport.
The infrastructure contract was awarded to a consortium of Alstom, Colas Rail, Orascom and Arabco. Alstom has an €80m share of the contracts, including the supply of Urbalis 200 signalling in a consortium with Thales. It is also providing the third-rail power supply, ventilation, lifts and escalators.
Line 3 is being built in four phases, with the initial section opening in 2012. The second phase was inaugurated in May 2014, bringing the line to Heliopolis. The third phase is to be an 18 km western extension with two branches and 15 stations; contracts have not yet been awarded. Phase 4 is divided into three works packages and is due to be completed in early 2018.