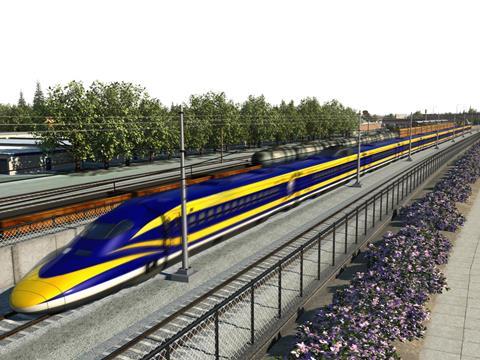 USA: The California High Speed Rail Authority announced on December 12 that it had selected a consortium of Dragados, Flatiron and Shimmick as preferred bidder for a design-build contract covering construction of a further 96 route-km of high speed line in the Central Valley.
In selecting the 'apparent best value bid' from the three submitted, CHSRA valued Construction Package 2-3 at 'between $1·5bn and $2bn'. Dragados-Flatiron-Shimmick submitted an offer of $1·2bn, the authority reported. Bids from the competing consortia were valued at $1·7bn and $2·1bn respectively. The formal award of a contract is subject to final approval by the CHSRA board 'in the coming weeks'.
CP2-3 is the second civil works package to be let by the authority. In June 2013 it selected a joint venture of Tutor Perini, Zachry Construction and Parsons for the $985m CP1, which covers civil works on the 47 km Madera – Fresno segment of the 480 km Initial Operating Section between Merced and the San Fernando Valley.
CP2-3 covers the 96 km section south from East American Avenue in Fresno to a point 1·6 km north of the Tulare-Kern County line near Bakersfield. It requires construction of 'approximately 36' bridges, flyovers and underpasses, according to CHSRA.