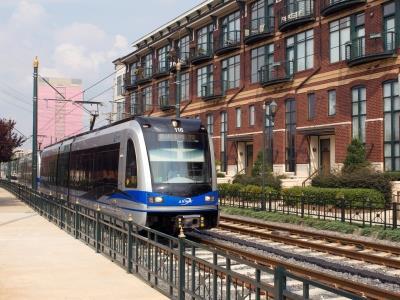 USA: A full-funding grant agreement providing $580m towards the cost of extending Charlotte's LYNX Blue line was announced by Federal Transit Administrator Peter Rogoff on October 16.
Running northeast from 7th Street in Center City through North Davidson to the University of North Carolina campus, the 15 km extension with 11 stations will almost double the length of the Blue Line. The line had been intended to continue for a further 2 km to a park-and-ride facility at I-485, but the final two stations were dropped last year to reduce the cost.
Charlotte Area Transit System puts the total cost of the truncated extension at $1·16bn. As well as the $580m federal grant being provided through FTA's New Starts programme, North Carolina Department of Transportation will provide $299m, with CATS contributing a further $281m from its half-cent sales tax revenue.
Charlotte has been one of the USA's fastest-growing cities in the past decade, and the Blue Line extension is expected to help reduce congestion along Interstate 85 and US 29, where commercial and residential growth is projected to continue. Rogoff said the extension would provide a direct link between two of UNC's 'flagship campuses', opening up 'new opportunities for students and residents throughout Mecklenburg County'.
Since opening in 2007, the 15·5 km LYNX Blue Line running southwest from 7th Street to I-485/South Boulevard has carried more than 19 million passengers. The line is typically handling more than 15 000 passengers each working day, which far exceeds expectations, according to FTA.
In December 2011 Federal Transportation Secretary Ray LaHood announced an $18m TIGER grant to increase capacity, enabling CATS to build additional substations and lengthen platforms at three stations to accommodate more passengers during peak hours and special events.
CATS has already ordered 22 additional S70 LRVs from Siemens for $87m. These will be used to lengthen services as well as to operate the new extension, which is due to open in 2017.