AUSTRALIA: Yarra Trams Chief Executive Dennis Cliche wore this simple message on his lapel at a recent light rail conference, where he outlined how the Melbourne operator is taking positive measures to manage increasing congestion and surging ridership.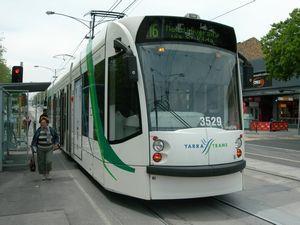 Speaking at the ninth UITP Light Rail Conference in Istanbul on June 13, Dennis Cliche gave an upbeat assessment of Yarra Trams' efforts to improve its service in the face of some significant operational challenges.
The Melbourne network, which since 2004 has been solely operated by Yarra Trams, a joint venture of Transdev and Transfield Services, is now the world's largest conventional tram operation with 249 km of double track, some 67% of which is shared with road traffic.
Cliche admitted that rising road congestion is having an adverse effect on the tram network, and end-to-end journey times and punctuality have both suffered in recent years.
Average commercial speed across the network is 16 km/h, although this drops to 11 km/h in the city centre. Overall ridership has grown by over 15 million passenger-journeys in the past three years, with patronage growing by 30% on some routes, leaving Yarra Trams with a significant capacity headache.
But in typically ebullient fashion, Cliche told delegates that doing nothing was not an option - not least because the trams are so crucial to Melbourne's future sustainability.
'We are absolutely not anti-car - we are suggesting to Melbourne's motorists that if they all took the tram to work once each week, they would also get a better commute all week'. But the catch is that if commuters deserted their cars en masse, 'we wouldn't be able to carry them all'. Implementing practical measures to manage the problem requires not only co-operation with a myriad of stakeholders and interest groups, but vision and enthusiasm.
'Bumble bees'
'Melbourne's trams have been awarded Australian national heritage status, and they are a worldwide symbol of the city', Cliche pointed out. At the same time, they need to provide a modern transport service that caters for the growing city's needs. Publicity and marketing are vital, and under Cliche, Yarra Trams is anything but low-key.
That much is evident on Line 96 between East Brunswick and St Kilda. June 11 saw the first Alstom Citadis 302 car loaned from Mulhouse enter traffic in its bright yellow livery. The cars are to retain the colours applied by French operator Soléa, but they are being branded as 'bumble bees' to reinforce the message that trams are kind to the environment.
'This is the latest generation of low-floor cars', Cliche emphasised, 'and it's really important that we show our passengers that we are still innovating, still moving forward'. Three of the five Mulhouse cars are now in Australia, where they will stay until 2011 under a project co-ordinated by Transdev.
Innovative marketing
But it is arguably in the marketing of the tram service that Melbourne has set an example to other cities. A number of concepts designed to make the tram easier to use and more attractive to new customers have been embraced by Cliche's team. The 'Love Your Trams' sustainability campaign saw more than 20 000 native tree seeds distributed to passengers, and culminated in the launch of the city's first wind-powered tram (RG 5.08 p331).
TramTracker offers real-time information about the next three trams to depart from the nearest stop, delivered by SMS to a mobile phone, by landline or by internet. The service also allows passengers to request information on the next low-floor car to pass on their route, which Cliche suggested is especially helpful on a network that does not restrict its low-floor vehicles to dedicated routes. TramTracker features in an advertising campaign showing how passengers can wait for a tram by finishing a book in a coffee shop or a glass of wine in a restaurant, for example.
'It's about a positive message - it's not about finding out whether your tram is delayed or not, it's about knowing when your next tram is coming', Cliche explained, citing the influence of his own experience in sales and marketing positions.
Cliche's passion for light rail is clear from the 'Love Your Trams' badge he wore in Istanbul; the same logo is emblazoned across the operator's website. His message to other players is that they should push to embed their tramways into the culture of their city through highly-visible and sometimes unusual initiatives, even in times of rising demand and concerns over capacity.
Dennis Cliche was appointed as Chief Executive Officer of Yarra Trams in September 2005. He started his career with Air Liquide Canada and spent 22 years with the Air Liquide Group in a variety of executive, sales and technical roles in Canada, France and Australia. He joined Transdev SA in May 2003 and was seconded to the Yarra Trams executive team in July 2003.