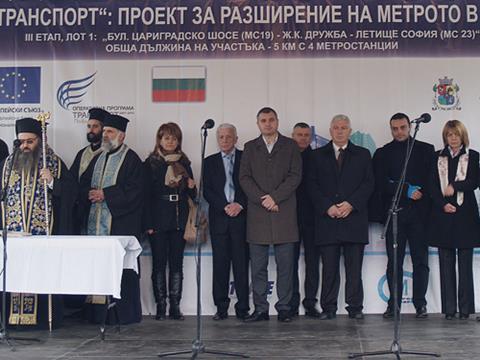 BULGARIA: Minister of Transport & Communications Ivaylo Moskovski and Mayor of Sofia Yordanka Fandakova attended a sod-turning ceremony on November 21 to formally launch construction of the airport extension of Sofia metro Line 1.
The extension from Tsarigradsko Shose to the airport will be 5 km long, with four stations. Construction is being divided into three contract packages, with the 136m leva overall cost being supported by the EU.
Opening is scheduled for 2015, with an expected journey time from the airport to the city centre of around 16 min. Work on a branch of Line 1 from Mladost 1 to a business park at Mladost 4 is planned to get underway next year for completion in 2015.
Daily ridership on the metro has risen from 180 000 to 300 000 since the opening of Line 2 in August.