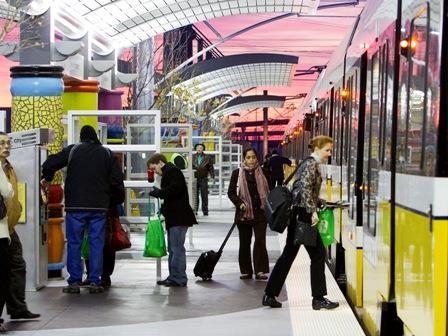 USA: Two sections of the Dallas Green Line totalling 38·6 km opened on December 6, marking completion of the $1·8bn project. A special 'Super Saturday' event previewing six of the 15 new stations took place on December 4, with the entire 45 km Green Line open to the public during the celebration.

The first 6·4 km section with five stations began revenue service in September 2009 from Pearl to MLK Jr. The new extensions run 16 km southeast from MLK to Buckner in Pleasant Grove and 22·6 km northwest from the city centre to North Carrollton.

The Green Line is worked by 18 new light rail vehicles and 38 of the existing fleet of 115 KinkiSharyo LRVs which have been extended to 37·7 m by adding a 9·4 m low-floor central section.

Funding for the project was provided by a 1% local sales tax and a $700m full funding grant agreement awarded in July 2006, with $78·4m approved under the American Recovery & Reinvestment Act in mid-2009.

Also inaugurated on December 6 was DART's first infill stop at Lake Highlands on the Blue Line. Located between White Rock and LBJ/Skillman, the stop was originally part of the Garland extension but was deferred until residential development would supply sufficient ridership. An eastern extension from Garland to Rowlett is due to open in 2012.

To avoid congestion on the downtown LRT alignment, Red, Blue and Green line trains now run every 15 min during peak hours instead of every 10 min. However, additional trains are now running a peak-hours only Orange Line service between Parker Road on the Red Line and Bachman on the Green Line, providing a 7½ min headway on the network's busiest section.

The Orange Line will be extended to Irving and Las Colinas in 2012, and will reach Dallas Fort Worth Airport in 2014-15. Eventually, DART hopes to build a second light rail alignment through the city centre so that 10 min headways can be re-introduced on all lines.