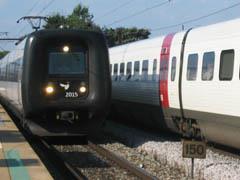 DENMARK: New electric multiple-units and additional double-deck coaches for København commuter services are included in a DKr2·6bn investment package announced by Transport Minister Henrik Dam Kristensen on June 12. The investment forms part of a package of proposals to boost the use of public transport agreed by the government with the Red-Green Alliance and Danish People's Party.
With plans to electrify Banedanmark's main line between Lunderskov and Esbjerg approved in February, and further electrification now being studied, the government has decided to order an initial batch of 15 EMUs to augment the inter-city fleet. In order to avoid the kind of problems which dogged the procurement of DSB's IC4 DMUs, the minister said there would be 'new model of procurement'. The intention is to order two or three small batches of 'proven' designs, which will be tested in revenue service before a series order is placed. The dual-system trainsets would be equipped for both 25 kV 50 Hz and 15 kV 16·7 Hz to allow operation into both Germany and Sweden.
Other projects covered by the investment package include procurement of an additional 55 double-deck coaches in 2013-17 to expand the current fleet of 112 vehicles working push-pull commuter and services in Sjaelland, refurbishment of existing locomotives and network enhancements around the country. Funding is also to be provided for improved frequencies on the København metro, cutting headways from 120 to 100 sec to boost capacity by around 20%.
Further studies will be undertaken into light rail and metro expansion projects in various cities, including the Ring 3 orbital line around København, a scheme in Aalborg and a 14 5 km light rail line in Odense which the city hopes will open by 2020. Funding will be provided for electrification of the Grenaa line as part of the Aarhus tram-train project authorised in May.
To encourage greater use of the facilities being provided, the agreement allocates DKr662m a year from 2013 to facilitate fare reductions, making public transport around 20% cheaper to use off-peak. Next year will see the introduction of a youth card offering further savings. Funds are also being allocated for the establishment of 'super bike paths' in the larger cities to encourage more cycling.
'We've got a good deal to ensure better and cheaper public transport, and we have set the orientation for the future transport system, focusing on electrification, light rail and bicycles', said Henrik Dam Kristensen.