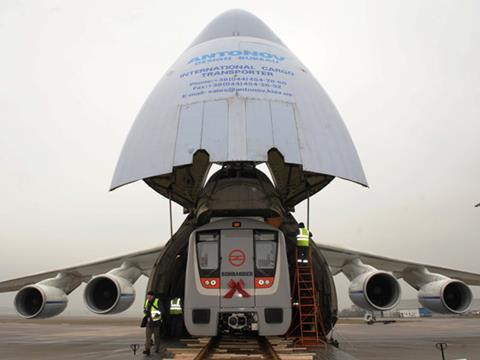 INDIA: The first of 424 Bombardier metro cars for Delhi arrived in India onboard an Antonov Airlines AN-124-100M high capacity freight aircraft on February 26.
The 45 tonne, 22·5 m long and 3·2 m wide metro car had been moved by road from Bombardier's Görlitz plant in eastern Germany to Parchim airport in Mecklenburg-Vorpommern the previous day.
Delhi Metro Rail Corp placed a €427m order for 340 Movia cars in July 2007. An €87m option for a further 84 was exercised in March 2008, bringing the order to 37 four-car and 46 six-car trainsets worth a total of €514m. The trains are required for the 60 km Phase 2 of the metro network. They will be air-conditioned, have electronic information systems, and are designed to be 90% recyclable under Bombardier's ECO4 environmental policy.
The first 36 cars are being manufactured at Görlitz. The rest will be produced at a newly-built €33m factory at Savli in the Vadodara district of Gujarat, which Bombardier inaugurated last November to serve projects in the Indian and southeast Asian markets. Bombardier has been training 60 staff from India at Görlitz, and employees from the German plant are in India to support the establishment of the Savli factory.
Bombardier's Västerås plant in Sweden is handling design and project management, and developed the Mitrac propulsion system for the 25 kV cars in conjunction with the company's sites in Mannheim and Bucuresti. The stainless steel bodies for the first cars are being made at Hennigsdorf, with the 1 676 mm gauge bogies produced at Derby and Siegen.
'This project is a prime example of collaboration between Bombardier and its customer across cultures, countries, continents and sites', said Stephan Krenz, President of the Germany & Scandinavia business unit of Bombardier Transportation's Passenger Division. 'Our international team developed and supplied a brand new vehicle in just 1½ years while at the same time establishing a new production plant in India.'