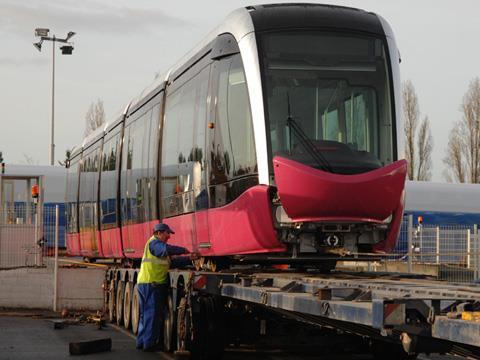 FRANCE: The first of 33 Alstom Citadis trams for the two-line network being built in Dijon was delivered to the depot in the former SNCF workshop at Dijon-Chenôve on January 26, having left the Alstom's La Rochelle factory six days earlier.
The 33 m long 100% low-floor trams will be able to accommodate more than 200 passengers, 42 seated. Test running is scheduled to begin in February, ahead of the start of passenger services in September. Line T1 between Valmy and Chenôve will be 8·5 km long with 16 stops, while T2 from the station to Quetigny will be 11·5 km with 21 stops.
The tram is part of an order for 53 cars which was placed jointly by Brest (20 trams) and Dijon (33) in 2009 in an effort to gain economies of scale. The total value of the order was more than €100m, and according to Dijon council pooling the requirements has lowered the cost per vehicle by around 25%.