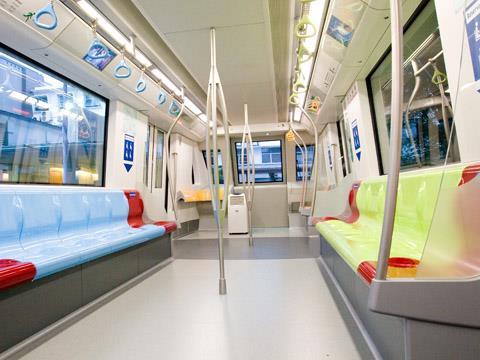 SINGAPORE: A mock-up of Bombardier's proposed Downtown Line metro train design has gone on display at the Land Transport Authority's office in Hampshire Road.

The mock-up is part of LTA's design approval process, allowing the authority to evaluate the styling and interior finish. The trains will have a new seat designs and layout, and a dynamic route map which will indicate the side that doors will open.

Bombardier has a contract to supply 73 three-car trains for the 40 km 33-station Downtown Line, which is intended to improve travel between the northwestern and eastern areas of Singapore and the central business district and developments in Marina Bay. The trains are being designed in Germany and will be manufactured in Changchun.

Half-height platform screen doors have commenced operation at Pasir Ris, one of three stations being equipped during the pilot stage of a project which will eventually see the 1·5 m high PSDs installed at 36 above-ground MRT stations by 2012.