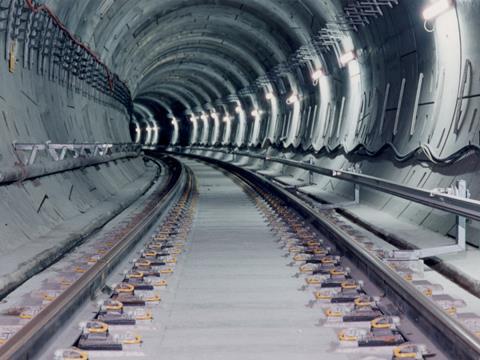 SINGAPORE: The Land Transport Authority has awarded three major contracts totalling more than S$1bn covering the supply of signalling, communications systems and rolling stock for the 40 km Downtown Line automated metro, which is now under construction.
Linking the north-western and eastern parts of the island to the Central Business District and Marina Bay, the DTL is a key element in LTA's 2020 Masterplan, which envisages a doubling of the island's metro network from 138 km to 278 km over the next 12 years. This is intended to provide a metro station within 5 min walk or 400 m from any point in the central area.
Contracts have already been awarded for civil works on the first sections of the DTL, which is being built in three stages. Phase I is scheduled to open by 2013, Phase II by 2015 and Phase III in 2016. The fully-underground line is expected to carry around 500 000 passengers/day when it is complete.
Bombardier is to supply 73 three-car trainsets to based on its modular Movia platform under a contract valued at €298m (S$570m). Designed for a maximum speed of 90km/h, the aluminium-bodied sets will operate at up to 80 km/h. Delivery of the 219 vehicles is scheduled to begin in the last quarter of 2012 and will be completed by mid-2016.
Signalling and train control equipment is to be supplied by Westinghouse Brake & Signal Holdings Ltd, part of the Invensys Rail Group. This S$288m contract includes automatic train operation, and the provision of platform screen doors. The train control package will incorporate the company's SIRIUS CBTC equipment, WESTRACE electronic interlockings and a Systematics automatic train supervision system.
Singapore Technologies Engineering is to provide the DTL's communications system linking trains, stations and depots with the Operations Control Centre, as well as the integrated supervisory control system for the OCC. This work forms part of a S$160m package awarded by LTA which also includes communications for the 5 km Marina Coastal Expressway project.