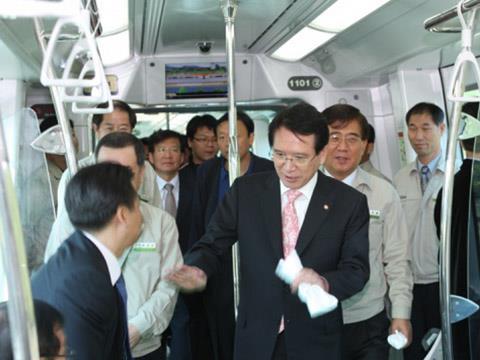 SOUTH KOREA: Hyundai Rotem's first driverless light metro car for domestic use was rolled out at the company's Changwon plant on October 15, when Chairman of the National Assembly Chair Kim Hyung Oh took a test ride.
The company is supplying 50 driverless metro cars as well as electrical and mechanical equipment for the Busan - Gimhae line under a contract awarded by Busan Gimhae Line Corp in November 2006.
The 24 km, 18 station line between Busan Sasang and Gimhae Shinmyung is scheduled to open in April 2011. The aluminium-bodied trains will comprise two-car sets with capacity for up to 300 passengers.
While this is Hyundai Rotem's first domestic contract for driverless metro cars, the company supplied the cars for Vancouver's Canada Line which opened in August. It is also to supply driverless metro cars to Incheon and Seoul.