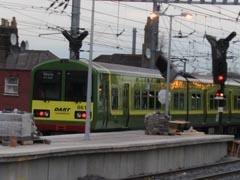 IRELAND: The formal procurement process for the proposed cross-city rail tunnel in Dublin was launched on February 9 with the publication of an OJEU Period Information Notice. Iarnród Éireann is seeking responses from potential PPP partners ahead of lodging a formal application next month for the Railway Order giving powers to build the line. A Contract Notice is to be published in the second quarter of the year giving further details and inviting prequalification bids for the PPP.
The 7·6 km tunnel will run from Inchicore in the west to meet the DART suburban line north of Connolly, with intermediate stations at Heuston, Christchurch, St Stephen's Green and Pearse. It will allow IE to reconfigure the Dublin suburban network, linking the present Heuston – Kildare route with the electrified northern line to Howth and Malahide. Trains using the southern end of the current DART route from Greystones and Bray would be diverted at Connolly and run northwest to Maynooth. Services to and from the recently-opened Docklands station would be linked to the Clonsilla – Pace branch now under construction.
Now officially known as the DART Underground project, the Interconnector is to be procured through a PPP concession running for between 25 and 35 years. This will cover design, construction and fitting out of the tunnels and stations, plus their operation and maintenance, together with 'associated facilities'. Also required will be the extension of DART's 1·5 kV electrification to the Kildare and Maynooth routes, which are currently operated with DMUs.
The largest element in the government's Transport 21 investment plan, the project is expected to raise suburban rail capacity in Dublin from the current 33 million passengers/year to around 100 million, with trains operating on both cross-city routes at 3 min headways.
Interchange will be provided between the two routes at Pearse, and with Luas light rail services at St Stephen's Green, Connolly and Docklands. There would also be a connection at Christchurch with the proposed Luas line to Lucan. Interchange would also be provided to the proposed Metro North linking St Stephen's Green with Dublin Airport and Swords.