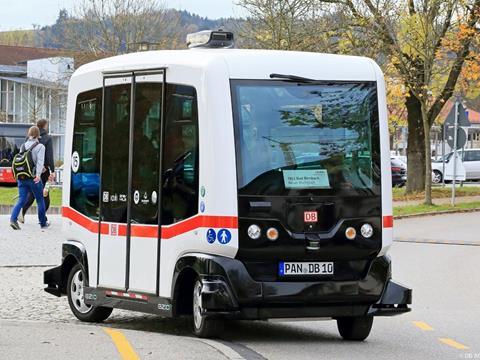 GERMANY: National railway Deutsche Bahn launched an electric driverless shuttle service in the town of Bad Birnbach in Bayern on October 25.
DB said it aims to use the multi-year project to become better acquainted with the technology, and test the acceptance of driverless shuttles among passengers.
'Our goal is to integrate roads and rails so strongly that individual mobility without your own car will be possible even in the countryside', said DB CEO Richard Lutz.
The project is being undertaken with the Rottal-Inn district, the town of Bad Birnbach, TÜV Süd and vehicle supplier EasyMile. It is part of DB's new brand for on-demand mobility Ioki.
One EZ10 shuttle is running in mixed traffic on a 660 m route between Neuer Marktplatz and Rottal Terme, with an intermediate stop at Artrium
The shuttle runs between 08.00 and 18.00, except in extreme weather. It operates at up to 15 km/h, offering a 5 min end-to-end journey time, and travel is free. The shuttle has six seats and carries an onboard assistant. The batteries offer up to 14 h of operation between charges.
From next year the route will be extended south by 1·4 km from Rottal Terme to the railway station. A second vehicle will then be put into operation so that a shuttle can be available to meet all arriving trains.
DB intends to carry out further tests of driverless shuttles next year in Hamburg under the Smart City Partnership with the city. It will also introduce on-demand offering connecting with existing public transport in Hamburg.