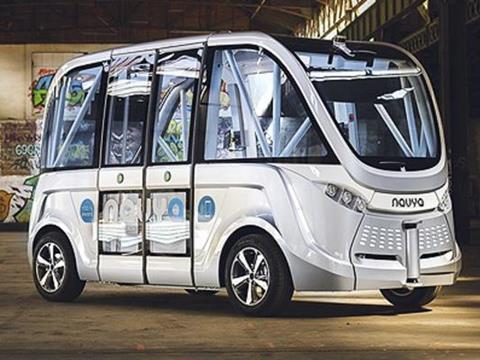 AUSTRIA: The Ministry for Transport, Innovation & Technology is funding a research project that will bring driverless electric shuttle to the Seestadt district of Wien.
The 'auto.Bus Seestadt' project aims to test a driverless shuttle under realistic conditions, stopping according to a timetable and carrying passengers. The vehicle would use machine learning to improve its ability to recognise obstacles and pedestrians.
Transport authority Wiener Linien says that the test will also deal with acceptance of the technology by passengers, development of legal guidelines and cybersecurity.
French supplier Navya is providing one of its Arma vehicles, which can carry 11 passengers. Other project partners are the Austrian Institute of Technology, transport safety organisation KFV, TÜV Austria and Siemens.
The project will begin in the summer with off-site testing, before the vehicle arrives in Wien at the start of next year. 'The bus is still wearing children's shoes. In Wien it will become an adult', said Wiener Linien CEO Günter Steinbauer.
It is expected that passenger-carrying trials will begin in 2019.