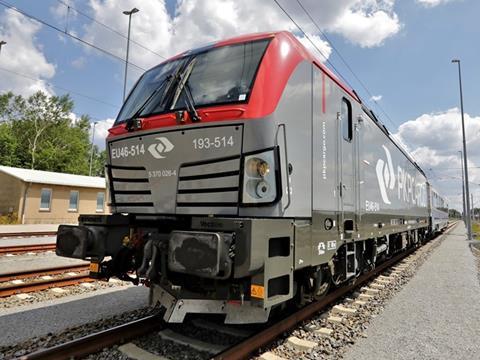 EUROPE: One of PKP Cargo's Vectron MS electric locomotives has completed a cross-border journey from Poland to Germany and back without stopping at the border, the operator announced on July 11.
The loco hauled a demonstration service from Chojnów in Dolnośląskie voivodship to Horka in the German Land of Sachsen, in order to publicise the freight operator's growing range of international services across the Schengen region.
PKP Cargo has ordered 20 multi-system Vectrons from Siemens: 15 were purchased in 2015, and an option for five more was signed in January this year. The 6·4 MW 160 km/h locos are equipped with ETCS and certified for use in Poland, Germany, Austria, the Czech Republic, Slovakia, Romania, the Netherlands and Hungary.
'International journeys will become more important to us', said PKP Cargo President Czesław Warsewicz. 'One of the main strategic aims of PKP Cargo Group is to be the leader in the EU section of the New Silk Road and in the "Three Seas" EU initiative.'