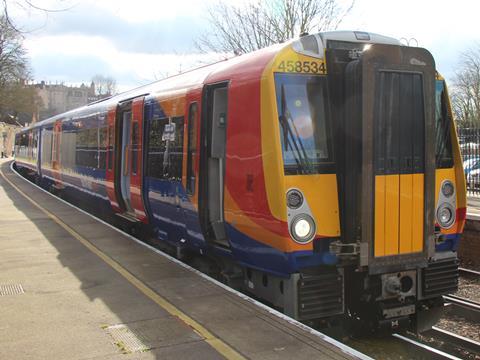 UK: Infrastructure manager Network Rail and passenger operator South West Trains announced on June 12 that their 'deep alliance' is to end in August.
The SWT-NR deep alliance was formed in April 2012, putting in place a single joint management team responsible for infrastructure and train operations on NR's 1 000 km Wessex Route, which is one of the busiest commuter networks in Europe with more than 2 000 trains/day.
This management structure and the associated commercial arrangements will now end. NR is to reintroduce the role of Route Managing Director, which will be assumed by current Infrastructure Director John Halsall, while deep alliance Managing Director Tim Shoveller will continue as Managing Director of SWT. This will allow SWT to focus on operational aspects while NR takes clear responsibility for infrastructure issues
NR and SWT are to 'retain the best and most successful parts of the alliance', including the integrated control centre and capacity and planning teams. SWT stressed that 'on a day to day basis, customers and most employees won't see any difference'. Work to improve performance and increase capacity will continue, with 'more extensive collaboration than anywhere else on the network'.
The changes are driven by the organisations' internal needs, rather than by external pressure or regulatory requirements, and will enable them to keep their finances separate.
'We have learned a huge amount over the past three years', said Shoveller. 'It makes sense to have a look at our alliance with a view to continuing the areas that have worked really well, and stop doing the things that haven't. I'm incredibly proud of what the NR and SWT teams have achieved for passengers. The strong ethic of teamwork, close working and collaboration will continue as we reshape the alliance to concentrate time and resource on the most effective areas.'
The future arrangements will be similar to those NR has in place on other routes, including the Anglia alliance.
The deep alliance in Scotland will remain, as the current ScotRail franchise was designed from the start to incorporate its managerial and financial structures. In contrast, the NR-SWT alliance had been overlaid on a previously-signed franchise agreement.