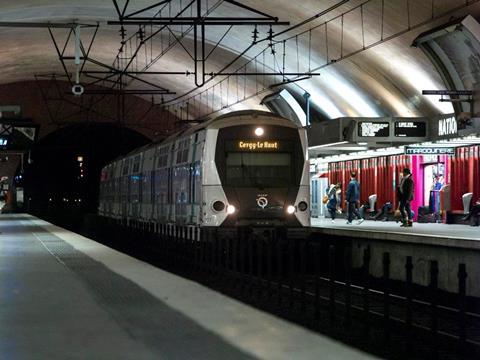 FRANCE: From July 1 Ile-de-France transport authority STIF plans to cease using the term 'RER', which was originally an abbreviation for Réseau Express Régional. According to the staff publication La Lettre du Cheminot, STIF's decision follows studies suggesting that the distinctions between the various brands used for public transport in Ile-de-France are not readily understood by everyone.
At the moment seven terms are used to describe different types of service: RER, suburban train, metro, tram express, tram, TZen (busways) and bus. In future STIF will only use 'train', 'metro', 'tram' and 'bus', according to the report. RER Line A, for example, will be known simply as Train A.
The distinction between RER and suburban rail services has over time become less clear. When the central section of Line A between Auber and Nation was opened by President Giscard d'Estaing on December 8 1977, the service was seen as an express metro. As with Line A, RER lines B, C, D and E were all cross-city routes reaching out into the suburbs beyond the area served by the metro. In the meantime SNCF has branded many of its radial suburban services as 'Transilien' with letters denoting different routes in the same way as the RER lines. Suburban services from Paris Nord to Persan-Beaumont, Creil and Luzarches operate as Line H, for example.