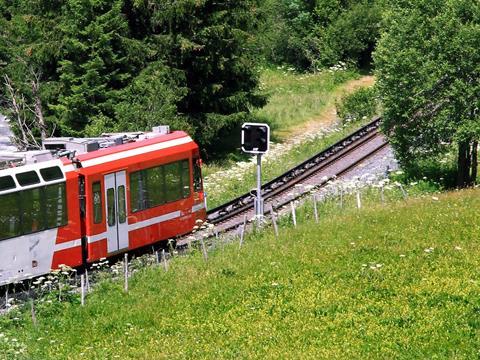 FRANCE: A project to install automatic signalling on the French section of the metre-gauge line linking St Gervais and Vallorcine in France with Martigny in Switzerland has been completed, with a full passenger service restarting on June 24.
The 37 km between St Gervais and Vallorcine has been equipped with the MZ system used on various lines in Switzerland, including on the Martigny – Châtelard section of the cross-border line.
This will enable service frequencies to be increased during the summer and in the peak winter sports period. As well as supporting the standard service of around one train per hour in each direction, the new signalling has also enables the provision of a train between Vallorcine and Les Bossons every 30 min from mid-morning to late afternoon.
Passengers staying in local hotels and self-catering chalets are entitled to a pass offering free travel on the route between Servoz and Vallorcine, under a scheme sponsored by the Chamonix commune which aims to reduce car traffic and pollution.