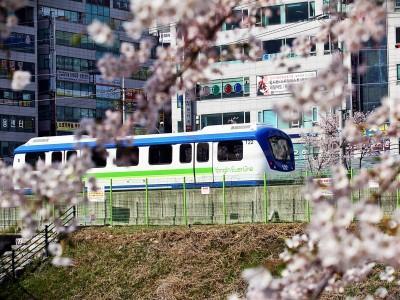 SOUTH KOREA: Passenger services on the EverLine light metro in Yongin started on April 26. The mostly elevated 18·5 km automated line links the Everland amusement park with the Seoul metro network.
Yongin Rapid Transit Co won the public-private partnership concession in July 2004. The consortium comprises Bombardier, Daelim Industrial Co, Hanil Engineering and Construction Co, Korea Development Corp, Hanjin Heavy Industries Co and Iljin Electric Co. The contract includes a five-year design and build period and up to 30 years of operations and maintenance.
The line uses Bombardier Transportation's Innovia ART 200 technology including 30 vehicles powered by linear-induction-motors and CityFlo 650 ATC signalling.