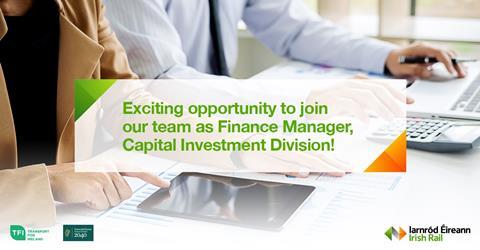 Organisation: Iarnród Éireann Irish Rail
Deadline: Friday 4th October 2019
Description
As part of an exciting new phase of growth, Iarnród Éireann is currently recruiting for a Finance Manager, Capital Investment Division.
The Finance Manager, Capital Investment Division, whilst directly reporting to the Director of Capital Investment, will professionally report to the Chief Financial Officer. The successful candidate will provide financial support to the Capital Investment team covering budgetary control, the financial planning and financial forecast management. They will manage, guide and direct the capital investment team, while working within the wider IE finance community.
Iarnród Éireann are driven by values that provide safe, customer focused journeys every day. We are one dedicated team. We believe in our people, are proud of our past and passionate about our future.
Candidates will demonstrate the following qualities:
Essential
A professional accounting qualification, with at least five years P.Q.E
Experience as a senior leader in a dynamic business environment. As this is a newly created position the finance manager will have an appetite to build on the expertise and commitment that exists across the team
Skilled in the preparation and delivery of quality financial reports and presentations
Strong commercial acumen with keen awareness of the financial and legal implications in the decision making process
Strong team leader with leadership capabilities and communication characteristics to successfully manage and enhance the finance function with Capital Investments
Computer literate with knowledge of the SAP Financial, Controlling and FI Systems, and Microsoft Office
Desirable
Experience of dealing with Government Departments and E.U. bodies would also be advantageous
Core Competencies
Strategic thinking abilities
Strong delivery/execution focus
Commercial awareness
Influencing and leadership
The ability to contribute and inspire at the highest level
To apply for this position, email your C.V. and cover letter, clearly indicating which position you are applying for, to capitalprogrecruitment@irishrail.ie by Friday 4thOctober 2019.