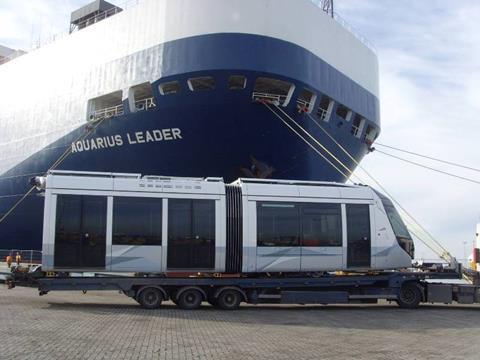 UAE: The first Alstom Citadis 402 tram for the Al Sufouh tramway has arrived in Dubai after leaving France on November 21. The seven-section vehicle is the first of 11 ordered for the project's initial phase.
Alstom had been test running the tram on a 700 m test track at its La Rochelle factory, and Dubai Roads & Transport Authority is due to begin test running in and near the depot at the end of December. The opening date has been set for November 11 2014.
The 44 m long tram has a capacity of 408 passengers in Gold, Silver and Women & Children classes. According to Alstom, the styling 'evokes the sand dunes of the Emirate'. The route will be the first tramway to be powered entirely using Alstom's ground-level APS and will be tropicalised to withstand high temperature and sand, with trams and stops to be air-conditioned.
The 14·6 km line will run at grade along Al Sufouh Road, rising to an elevated section across parts of Dubai Marina. Interchange will be provided with the metro via a footbridge at Dubai Marina and Jumeirah Lakes Towers, and with the Palm Jumeirah monorail. The first phase comprises 10·6 km and 11 stops, with six more stops and 14 more trams to come in Phase II. Ridership is expected to be 27 000 passengers per day when the line opens, rising to 66 000 passengers per day by 2020.
As well as rolling stock, Alstom is responsible for tracklaying, installation of its Urbalis communications-based train control signalling, communications systems, a control centre, platform screen doors and a ticketing system. Under a separate contract, Alstom will maintain the tramway for 13 years. The route will be operated by Serco under a 75-month contract signed in September 2013.