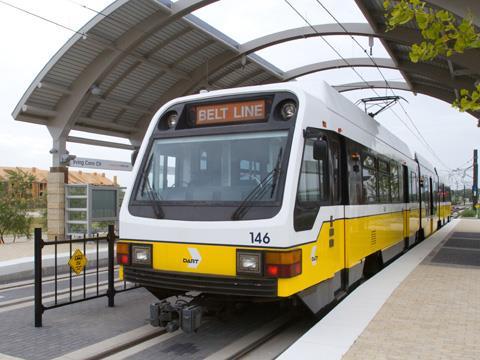 USA: The first phase of the $1·3bn DART light rail Orange Line in Dallas opened to passengers on July 30, following an inaugural train on July 27.
The initial section runs for 8·6 km from Bachman on the Green Line to Irving Convention Center, with intermediate stops at the University of Dallas and Las Colinas Urban Center.
The 6·2 km second phase to North Lake College and Belt Line Road is under construction for a planned opening on December 3. Connecting buses will run from the Belt Line stop to Dallas/Fort Worth International Airport until the completion of a 7·5 km extension direct to the airport, which is scheduled to open on December 15 2014.
Construction of the Orange Line is being undertaken by a joint venture of Kiewit, Stacy & Witbeck, Reyes and Parsons under design-build contracts. AECOM is providing DART with technical and management support.