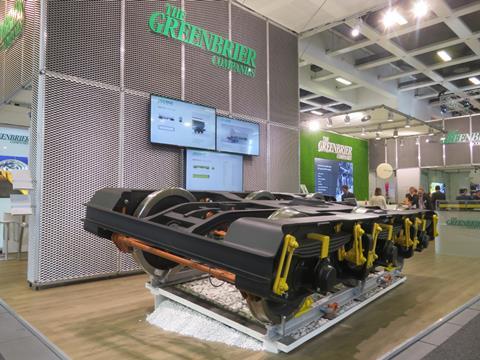 INNOTRANS: A prototype three-axle bogie for use on specialist heavy freight wagons carrying loads such as armoured fighting vehicles has been developed by Greenbrier Europe's plant at Arad in Romania.
Existing wagons for transporting military tanks are getting old, Design Manager Horia Santău told Railway Gazette, creating a niche opportunity for a more modern product.
The German and Polish armies have expressed interest in acquiring new wagons with the bogie, as has NATO.
The prototype 3ALs1o-K(V) bogie on show at InnoTrans 2018 weighs 7 tonnes, which Santău said is around half a tonne lighter than older equivalents.
It meets UIC and EN standards, and is designed for a maximum axleload of 25 tonnes. Heavy loads and six-axle bogies can impose complicated forces on the track, and the bogie is fitted with six sets of balancing equipment to ensure that there is no more than a 15% difference between the highest and lowest axle loadings.
Discussions with potential customers are ongoing.