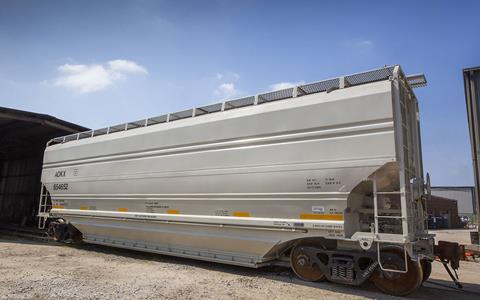 USA: A patent-pending Tsunami Gate door system that allows shippers to customise grain discharge speeds is at the heart of the latest design of covered hopper wagon to be developed by The Greenbrier Companies.
The 147 m3 capacity wagon can be emptied in 30 sec, with automated unloading for staff safety.
The 15·4 m long wagon is shorter than traditional designs, allowing a greater number of vehicles within the same train length. It has longer hatches for more efficient filling, rounded stiffeners for stronger sides, and improved aerodynamic performance which Greenbrier says provides up to a 53% reduction in drag.
'A shorter, higher-capacity covered hopper railcar with the Tsunami Gate is a long-awaited and highly valued product for grain shipping customers', said Peter Jones, Greenbrier's Vice-President of Engineering. 'The new design increases worker safety by automating the unloading process, and it optimises space on the tracks. By shortening the length of traditional grain railcars by more than 5 feet [1 524 mm], while maintaining the same cubic volume, the result is less fuel consumption, reduced greenhouse gas emissions and lower overall operating costs for our customers.'
The wagon will be on show at the Railway Interchange 2019 event in Minneapolis on September 22–25.