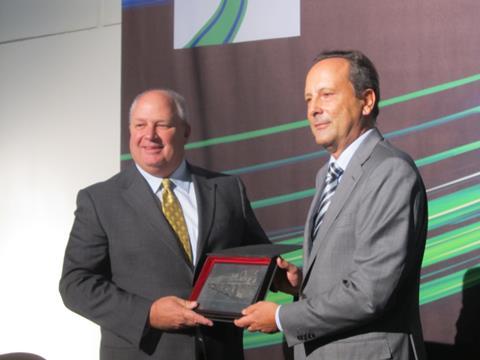 INDIA: An agreement for Bombardier Transportation's Savli rolling stock factory in Vadodara to assemble diesel locomotives for Electro-Motive Diesel customers in southeast Asia and the Pacific region was announced at InnoTrans on September 19.
Bombardier will produce components including underframes and bogies as well as assembling the locomotives. However, Bombardier Transportation President & Chief Operating Officer André Navarri stressed that the locomotives would be marketed, designed and sold as EMD products.
No firm orders have been announced, and the capacity of the plant is not being disclosed, but EMD expects the first locomotives to be completed towards the end of 2013. Locomotives will not be produced for the Indian domestic market, where EMD has long-standing manufacturing agreements with Indian companies.
EMD did a thorough review of the Asia-Pacific market before selecting India as the most suitable location for the assembly facility, according to President & CEO Billy Ainsworth. India offers 'good people', he said, and is an 'industry friendly country' where the company is 'comfortable doing business.'
Ainsworth does not anticipate complete locomotives being exported from India to North America or Europe, but says there may be opportunities for components to be supplied for locomotives around the world.
Navarri told Railway Gazette International that Bombardier had no interest in entering the Indian domestic diesel locomotive market, but confirmed that Bombardier would submit a tender 'if and when' the Indian government goes ahead with the long-discussed PPP project to develop a new electric locomotive plant. Ainsworth said the diesel locomotive deal would help to support local industry, developing a supply chain which could be leveraged by Bombardier for any future PPP.