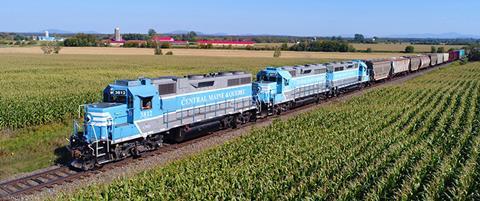 INTERNATIONAL: Canadian Pacific formally completed its acquisition of the Central Maine & Quebec Railway on June 3, with the takeover of the railway's US business.
CP had already acquired CMQ's 381 route-km in Canada on December 30 2019, under a deal with Fortress Transportation & Infrastructure Investors announced last November. Its takeover of CMQ's US operations was approved by the Surface Transportation Board on May 4.
Taking over the operation of 393 route-km in Maine and Vermont, including 92 km leased from Maine Department of Transportation, restores CP's direct access to the Atlantic seaboard. It gives the railway a 21 000 route-km network spanning six Canadian provinces and 11 US states from the Atlantic to the Pacific.
The 774 km CMQ network in Québec, Vermont and Maine comprises sections of the former Canadian Atlantic Railway, which was spun off by CP in 1995, and the former Bangor & Aroostook Railroad. CMQ's US and Canadian business will in future operate as CP subsidiaries, giving CP direct access to Searsport, Maine, and access to Port Saint John in New Brunswick via a connections with the Eastern Maine and New Brunswick Southern railways. CP intends to invest up to US$90m over the next three years to bring the CMQ infrastructure up to FRA Class 3 standards.
'This transaction is a generational business opportunity', said CP's President & Chief Executive Officer Keith Creel. 'It enables us to serve customers through a larger coast-to-coast network across Canada and brings a direct Class I freight rail service to the state of Maine for the first time in decades. It is with great pride that I formally welcome CMQ's US employees and customers to the CP family.'