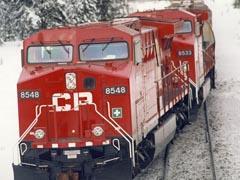 USA: Canadian Pacific announced on December 4 that it was inviting expressions of interest from prospective partners as it explored 'strategic options' for the future of 1 056 km of the former Dakota, Minnesota & Eastern Railroad. Running west from Tracy, Minnesota, to Rapid City, South Dakota, and including branches to Colony in Wyoming and Dakota Junction in Nebraska, the DM&E routes currently serve a number of grain, ethanol, clay and merchandise customers, according to CP.
'This portion of the CP network would be an attractive and highly viable opportunity for a low-cost operator', said CP President & Chief Executive Officer E Hunter Harrison. 'There is a strong long-term franchise here for an operator willing to maintain high-quality service and explore growth opportunities with existing and future customers'.
Separately, on December 3 CP had announced that it would be deferring 'indefinitely' plans to build a 416 km extension from the DM&E to serve the mines of the Powder River Basin in Wyoming, citing 'continued deterioration in the market for domestic thermal coal, including a sharp deterioration in 2012'. The extension option formed part of CP's acquisition of DM&E in 2007, and CP is now taking a pre-tax non-cash charge of $180m in the fourth quarter in respect of engineering design, land, capitalised interest and other development costs.