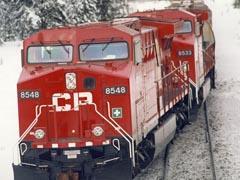 USA: Canadian Pacific Railway marked its first day of operational control of Dakota, Minnesota & Eastern Railroad Corp and its subsidiaries Iowa, Chicago & Eastern Railroad and Cedar American Rail Holdings on October 30.
This followed the end of a 30-day regulatory standstill after the Surface Transport Board finally granted approval for the US$1·48bn acquisition, which had been announced in September 2007. CP could pay a further $1bn dependent on the development of the Power River coal project.
'We acquired the DM&E and IC&E railroads because of the opportunity for sustained double-digit top-line and EBITDA growth', said CP President & CEO Fred Green. 'Given the year-to-date performance, and our current outlook, we are anticipating that it will surpass our estimate of $0·15 to $0·17 contribution to our 2008 earnings per share.'
The DM&E is the only Class II railway that connects and interchanges traffic with all seven Class Is. It has 1 100 employees, 4 000 km of track in eight US states, 150 locomotives and 7 200 wagons.
'Over the next three years we will invest $300m into the DM&E and IC&E networks', said CP Chief Financial Officer Kathryn McQuade. 'This capital investment reinforces our commitment to safe and fluid operations for our shareholders, our employees, our customers and the communities we serve.'