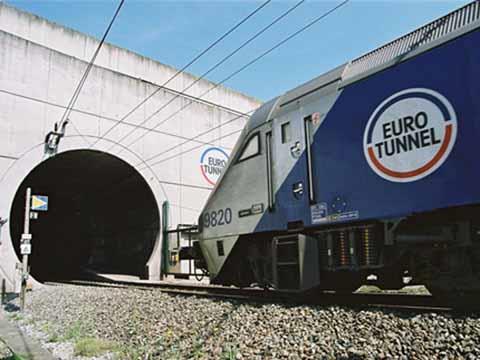 EUROPE: Channel Tunnel operator Eurotunnel has awarded WBN Waggonbau Niesky a €40m contract to supply three more Freight Shuttle trainsets to support its target of carrying 2 million lorries/year in 2020.
The 800 m long rakes will comprise 32 lorry-carrying wagons, three loading wagons and a coach for the lorry drivers. They are to be built 'using the latest technology to ensure that energy efficiency and strength are coupled with reliability'. Delivery is scheduled for late 2016 and early 2017.
'As the world leader in the rolling motorway industry, Eurotunnel has been able to draw upon its 20 years of experience in the design of these third-generation Shuttles', said Chief Operating Officer Michel Boudoussier.
Eurotunnel currently has 15 Freight Shuttles, comprising six of the original sets supplied by Breda-Fiat and nine second-generation trains from Arbel. Expansion of the fleet will enable the operator to increase its capacity by 20% and to run up to eight departures/h, compared to the present maximum of six/h.
The extra trains will be supported by a €30m programme of investments to expand the facilities at the Cheriton and Coquelles loading terminals and 'ensure the fluidity of traffic across the Eurotunnel site'.
Announcing the order on January 13, Eurotunnel; said 'with the British economy continuing to grow and cross-Channel traffic flows concentrating on the shortest routes as a result of environmental constraints, the market in the strait of Dover is set to grow over the coming years.'
To comply with a ruling from the UK's competition authorities, Groupe Eurotunnel is seeking to sell the MyFerryLink shipping business which was formed from the assets of SeaFrance and is operated by subcontractor SCOP SeaFrance.