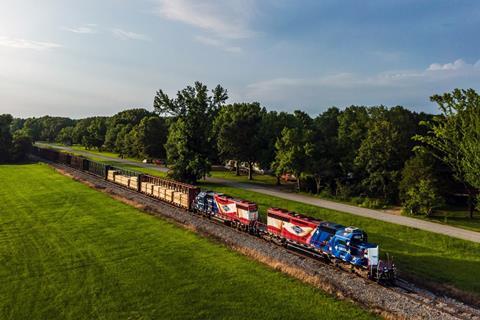 USA: Regional and short line railway group Gulf & Atlantic Railways has officially reopened the 380 km Grenada Railroad between Canton in Mississippi and Memphis in Tennessee after more than nine years of repairs and renewals.
Gulf & Atlantic Railways said the line was close to abandonment in 2014, with 145 km between Grenada and Canton in disrepair.
State and local authorities stepped in to save the line. Funding was secured to support rehabilitation, including a Fastlane grant in 2017 and a Federal Railroad Administration Consolidated Rail Infrastructure & Safety Improvement grant in 2020.
'I want to thank the team effort that it took from the local, state and federal levels to make this impactful project possible', said Brad White, Executive Director of the Mississippi Department of Transportation, at the reopening celebration on August 29. 'At MDOT, we recognise the importance of having a strong multimodal transportation network in the state, and rail is certainly a huge part of that. I'm excited to see the positive economic impact that the rehab and upgrades to the Grenada rail line will make in Mississippi.'