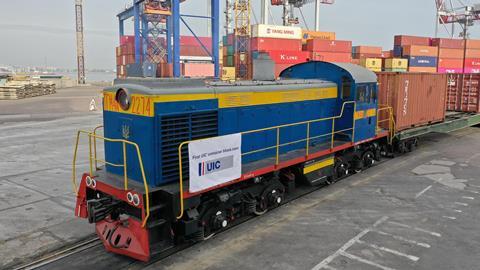 UKRAINE: Hamburger Hafen & Logistik has established Ukrainian Intermodal Co to offer container transport by rail from the port of Odesa to inland destinations.
In October UIC began offering weekly block train connections between Odesa and Ternopil, and this month a weekly service will be launched to Kharkiv. A weekly service to Zaporizhia is also planned.
HHLA is aiming to encourage model shift at the port of Odesa, which saw an 8·5% increase in container volumes to almost 650 000 TEU last year. The company sees a significant opportunity for rail to win traffic, as only 22% of hinterland container traffic currently uses rail, compared to 46% in Hamburg.
Much of the road network is in need of modernisation, while HHLA said the 1 520 mm gauge railways provide good connections to and from inland economic centres, with the long distances in a country around twice the size of Germany also favouring the use of rail.
Until now container transport by rail in Ukraine has been carried out with individual or groups of wagons. UIC takes a different approach, bundling individual loads into block trains to increase transport efficiency and reliability.
It is a neutral operator, granting all shippers and forwarders access to its intermodal services, and it aims to offer 'high, western-oriented' quality standards.
'HHLA possesses extensive expertise in the intermodal business', explained Philip Sweens, Managing Director of HHLA International. 'With an efficient train system based on customer-friendly services, transparent prices, simple booking processes and reliable timetables, we want to tap the considerable potential of the Ukrainian intermodal market. Together with local partners, HHLA intends to remove obstacles to rail transport in Ukraine, and to establish and market a reliable range of services.'
Rail facilities are being expanded at the Container Terminal Odesa, where HHLA operates the largest container handling facility in country, while inland activities are carried out
in co-operation with private rail terminals.
Additional services such as stuffing and stripping of containers, customs clearance and last-mile delivery by lorry are also available.