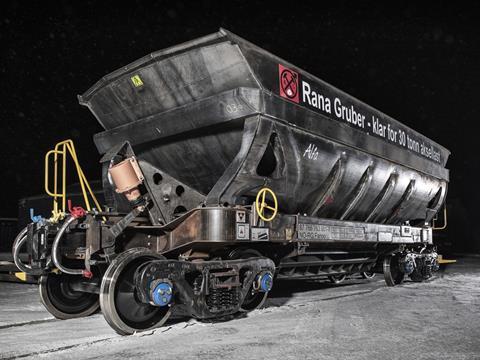 NORWAY: Infrastructure manager Jernbaneverket is studying a proposal to upgrade the 35 km Dunderlandsbane section of the Trondheim - Bodø route to increase the maximum axleload from 24 to 30 tonnes.
The plan has been put forward by mining company Rana Gruber, which contracts Cargolink to haul iron ore on the route between its Ørtfjell mine and its processing plant at Gullsmedvik in Mo i Rana.
On January 24 Rana Gruber took delivery of the first of 40 bottom-dump hopper wagons ordered from Swedish manufacturer Kiruna Wagon in May 2013. These are designed to offer a low tare weight and high axleload, and if the infrastructure were to be upgraded would enable capacity to be increased by 50%.
The mining company hopes that government approval can be obtained for the upgrade to start this year. It expects that the work would not be complicated, taking a matter of months to complete.
Rana Gruber would fund the upgrade of its own tracks at the mine and processing plant, while the state would be responsible for the main line railway in between. The company says this public investment would be justified as it would support the growth of the mine to support the local economy, and would also reduce the number of diesel trains required to move the ore.