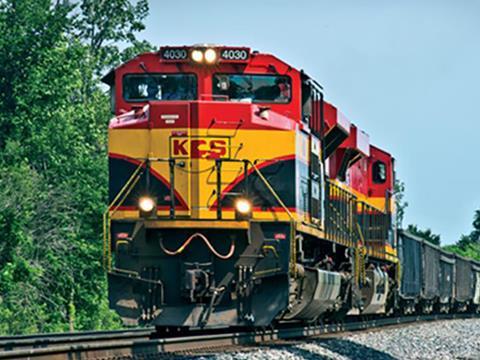 NORTH AMERICA: Kansas City Southern has given notice of its intention to terminate its merger agreement with Canadian Pacific, following the receipt of revised proposals from Canadian National.
KCS announced on May 13 that it had received a revised offer from CN, following negotiations in the wake of CN's unsolicited bid in April.
Under the revised offer, each share of KCS common stock would be exchanged for U$200 in cash and 1·129 shares of CN common stock. This would value KCS at US$33·6bn, compared to US$25bn for the CP proposal, and give the KCS shareholders a 12·6% stake in the combined company. CN has also reportedly offered to reimburse the US$700m penalty that KCS would have to pay CP for breaking off the original agreement.
The proposal would be binding on CN, with KCS being given until May 21 to accept the offer. However, the transaction would still be subject to approval by the KCS stockholders, as well an agreement from the US Surface Transportation Board that KCS could be placed into a voting trust pending regulatory approval of the merger and other customary closing conditions.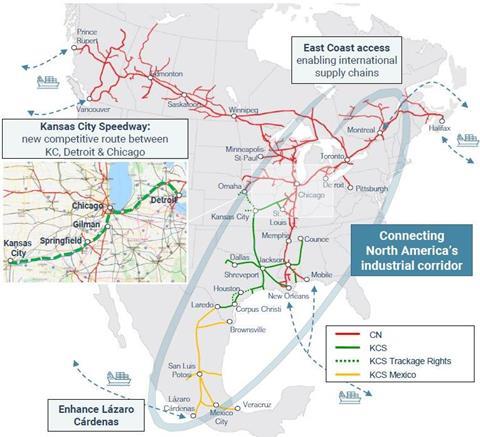 Having consulted the company's external legal and financial advisors, the KCS board determined that CN's revised proposal constituted a 'Company Superior Proposal' as defined in the March 21 merger agreement with Canadian Pacific.
As such, KCS notified CP that it intended to terminate its original merger agreement and enter into a definitive agreement with CN, subject to CP's right to negotiate amendments for at least five business days and a further determination by the board as to whether such amendments would 'cause the CN proposal no longer to constitute a Company Superior Proposal'.
STB had earlier decided that a 'friendly' end-to-end merger between KCS and CP would qualify for consideration under the waiver from revised merger rules granted to KCS in 2001. It has not yet ruled whether a merger with CN would also benefit. More than 1 000 shippers and other organisations had also registered their support for the CP-KCS deal.
'We are delighted that KCS has deemed CN's binding proposal superior, recognising the many compelling benefits of our combination and expressing confidence in CN's ability to obtain the necessary approvals and successfully close the transaction', said CN President & CEO J J Ruest.
'Our proposal offers a clear path to completion and is structured in a way that gives KCS shareholders both greater immediate value and the opportunity to participate in the future upside of the combined company. We are encouraged by the widespread support we have received for the transaction thus far and will continue to work closely with KCS and all relevant stakeholders to fully realise the benefits and opportunities available through a combined CN-KCS.'